File:Drama triangle.svg
From WikiMANNia Commons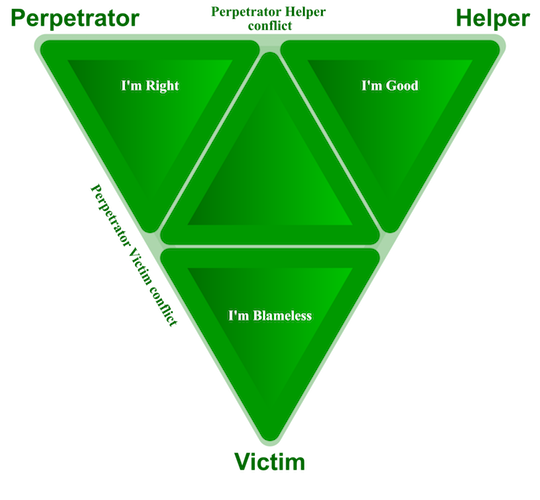 Deutsch: Das Dramadreieck besteht aus den drei Beteiligten: Opfer, Täter und Helfer
English: The drama triangle composed of the three parties involved: victims, perpetrators and helpers
Español: El triángulo dramático está compuesto por las tres partes implicadas: las víctimas, los perseguidores y salvadores
Français: Le triangle dramatique composé des trois parties concernées : les victimes, les persecuteurs et les sauveurs.
Author

own work

Date

November 19, 2013

Remark

Realized on an idea by:

PNG-Version
This file is translated using SVG

<switch>

elements. All translations are stored in the same file!

Learn more

.

To embed this file in your language (if available) use the lang parameter with the appropriate language code, e.g. [[File:Drama triangle.svg|lang=en]] for the English version.

To translate this file into your language, download the file to your computer, add your translation and re-upload it with the

same

name. You will find help in

Graphics Lab

if you're not sure how to do this.
File history
Click on a date/time to view the file as it appeared at that time.
You cannot overwrite this file.
File usage
The following 2 pages link to this file:
Metadata