File:Feminist ants.jpg
From WikiMANNia Commons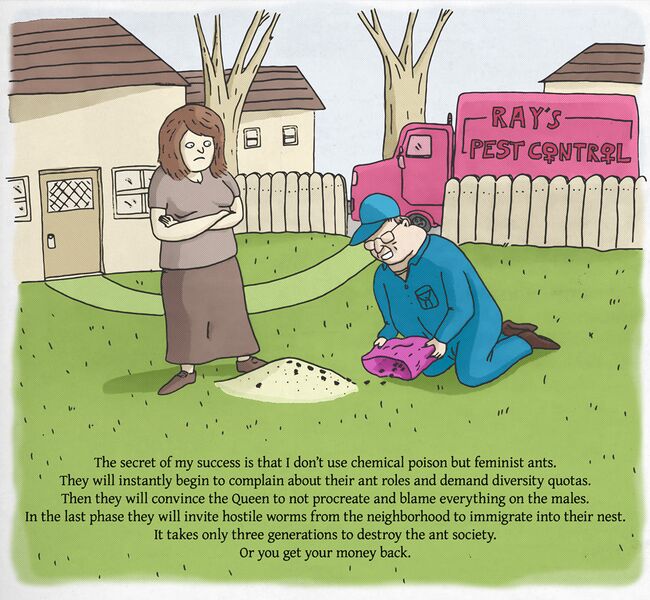 Original file
‎
(1,000 × 923 pixels, file size: 448 KB, MIME type: image/jpeg)
Deutsch: Das Geheimnis meines Erfolges ist, dass ich kein chemisches Gift, dafür aber feministische Ameisen verwende. Sie werden sofort beginnen, über ihre Ameise-Rollen zu klagen und nach Diversity-Quoten verlangen. Dann werden sie die Königin davon überzeugen, sich nicht fortzupflanzen und den Männern für alles die Schuld zu geben. In der letzten Phase werden sie feindliche Würmer aus der Nachbarschaft dazu einladen, in ihr Nest einzuwandern. Es braucht nur drei Generationen, um die Ameisen-Gesellschaft zu zerstören. - Oder Sie bekommen Ihr Geld zurück.
English: The secret of my success is that I don't use chemical poison but feminist ants. They will instantly begin to complain about their ant roles and demand diversity quotas. Then they will convince the Queen not to procreate and blame everything on the males. In the last phase they will invite hostile worms from the neighborhood to immigrate into their nest. It takes only three generations to destroy the ant society. Or you get your money back.
Español: El secreto de mi éxito es que yo no uso veneno químico pero las hormigas feministas. En un instante se empezarán a quejarse de sus papeles de hormigas y demandan cuotas de diversidad. Entonces van a convencer a la reina no para procrear y culpar de todo a los varones. En la última fase que invitarán gusanos hostiles desde el barrio de inmigrar en su nido. Se tarda sólo tres generaciones para destruir la sociedad de hormigas. O se obtiene su dinero de vuelta.
File history
Click on a date/time to view the file as it appeared at that time.
You cannot overwrite this file.
File usage
There are no pages that link to this file.