File:Julia Kloeckner und Heiko Maas zu den Kosten der Migration.jpg
From WikiMANNia Commons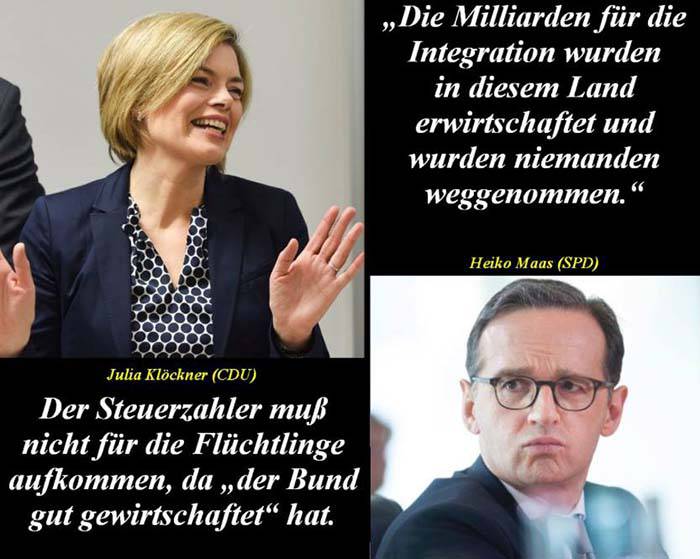 No higher resolution available.
"Bei Maybrit Illner fantasierte Heiko Maas in bester Sozialistenmanier: die Milliarden für die Integration der Millionen Wirtschaftsflüchtlinge werden niemandem weggenommen, sie werden erwirtschaftet. Aha, von wem denn? Heiko Maas als Berufspolitiker hat nie einen Beitrag im Arbeitsleben geleistet, geschweige denn jemals in irgendeine Kasse eingezahlt, die er aber so gerne für Illegale plündert. Ach ja, von dem durch­schnittlichen Dumm­deutschen, der auch offensichtlich nichts lieber macht, als nur für andere arbeiten zu gehen, obwohl er nichts davon sieht, außer schlimmste Androhungen und Behörden­wahnsinn, sollte er mal nicht funktionieren. [...]

Bereits knapp vor einem Jahr tönte auch Julia Klöckner von der CDU ins gleiche Horn und verabreichte dem Volk eine dümmliche Beruhigungspille mit der Aussage: Der Steuerzahler muss nicht für die Flüchtlinge aufkommen, da "der Bund gut gewirtschaftet" habe. Auch bei Klöckner ist der Realitätsverlust erkennbar, denn jedes Geld, was in diesem Land an Steuern abgeführt wird, was diese Politiker für die unkontrollierte Massen­einwanderung verpulvern, nehmen sie natürlich dem deutschen Bürger weg."
"With Maybrit Illner Heiko Maas fantasized in the best socialist manner: the billions for the integration of the millions of economic refugees are not taken away from anyone, they are "earned". I see! By whom? Heiko Maas, as a professional politician, has never made a contribution to working life, let alone ever paid into any "Kasse" (social security fund or tax treasury), which he loves to plunder for illegal immigrants. Oh yes, from the average dumb German, who obviously does not like anything more than working for others, although he sees nothing of it, except the worst threats and madness about the authorities, he should not work. [...]

Just over a year ago, Julia Klöckner of the CDU also sounded the same horn and gave the people a stupid sedative pill with the statement: "The taxpayer does not have to pay for the refugees because "the federal government has operated well". The loss of reality is also noticeable at Klöckner, because any money that is paid in taxes in this country, what these politicians spend on uncontrolled mass immigration, they naturally take away from the German citizen."
Source

Unfassbar, was uns da regiert: Milliarden für Integration von "Flüchtlingen" werden erwirtschaftet, Politikstube on October 8, 2016
File history
Click on a date/time to view the file as it appeared at that time.
You cannot overwrite this file.
File usage
There are no pages that link to this file.
Metadata