Medien-Datenbank des WikiMANNia-Projekts
Media database of WikiMANNia project – Base de datos multimedia del proyecto WikiMANNia – Database multimediale del progetto WikiMANNia
Die Dokumente und Bilder sind eventuell urheberrechtlich geschützt. – The documents and images may be copyrighted. – Los documentos e imágenes pueden ser propiedad. – I documenti e le immagini possono essere protetti da copyright.
File:Logo-Architects and Engineers for 9-11-Truth - 2016.png
From WikiMANNia Commons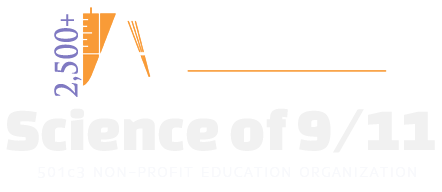 No higher resolution available.
Deutsch: Architekten und Ingenieure für die Wahrheit zu 9/11
English: Architects and Engineers for 9-11-Truth
[edit]

File history
Click on a date/time to view the file as it appeared at that time.
You cannot overwrite this file.
File usage
The following 5 pages link to this file:
Metadata
This file contains additional information, probably added from the digital camera or scanner used to create or digitize it. If the file has been modified from its original state, some details may not fully reflect the modified file.
Author
Creative Director JNL, Creative Informer AE
Software used

Adobe Photoshop CS6 (Macintosh)

Date and time of digitizing
07:38, 2 September 2015
File change date and time
12:24, 18 April 2016
Date metadata was last modified
12:24, 18 April 2016
Unique ID of original document
xmp.did:B535533EC72468118083E7BAEA3F6040
Copyright status
Copyrighted
Short title
Keywords

ae911truth
wtc 7
wtc building 7
richard gage
aia
architects
engineers
pentagon
cit
north side flyover
citgo
rethink911
ted walters
nyccan
high-rise safety initiative
ace elevator
put options
cfr
council on foreign relations
trilateral commission
thermite
shanksville
transportation secretary norman mineta
jersey girls
dave hooper
anatomy of a great deception
false flag
ranke
lloyd england
silverstein
soloman brothers building
Steven E. Jones
William Rodriguez
David Ray Griffin
Barrie Zwicker
Erik Lawyer
Kevin Barrett
Carol Brouillet
Mia Hamel
Jarek Kupsc
Joseph Culp
Ken Jenkins
Ellen Mariani
world trade center
one world trade
mossad
amdocs
adl
Five Dancing Israelis
Urban Moving Systems
homeland security
Tom Ridge
Michael Chertoff
Janet Napolitano
tsa
transportation safety administration
mohamed atta
George H. W. Bush
George W. Bush
Hillary Clinton
Mena Arkanasas
air america
evergreen air
shadow government
iran contra
rockefeller
rothschild
Dominick Suter
George Washington Bridge
fbi
CIA Director George Tenet
Holland Tunnel
By way of deception
thou shalt do war
bin laden
Senator Bob Graham
Weehawken
dan rather
Benjamin Netanyahu
zionism
zionist
north side flyover
2000 PNAC report
Rebuilding America's Defenses
new pearl harbor
global Pax Americana
dual israeli citizens
Rebuilding America's Defenses: Strategies
Forces and Resources for a New Century
Vice President Cheney
Florida Governor Jeb Bush
Defense Secretary Rumsfeld
Deputy Defense Secretary Paul Wolfowitz
Cheney Chief of Staff I. Lewis Libby
Undersecretary of State John Bolton
Undersecretary of Defense Dov Zakheim
author Eliot Cohen
aipac
Robert Kagan
Robert Martinage
Richard ("Dick") Cheney
Robert Killebrew
Peter Rodman
Project for the New American Century
Roger Barnett
Paula J. Dobriansky
Saddam Hussein
William Jefferson ("Bill") Clinton
Steve Forbes
Zalmay M. Khalilzad
William J. Bennett
William Kristol
Paul Wolfowitz
Vin Weber
Stephen A. Cambone
Steve Rosen
Thomas Donnelly
Norman Podhoretz
Phil Meilinger
Midge Decter
Donald Kagan
Donald Rumsfeld
Dov S. Zakheim
Devon Gaffney Cross
Aaron Friedberg
Abram Shulsky
Michael Vickers
Dan Quayle
Eliot A. Cohen
Dan Goure
Alvin Bernstein
Barry Watts
David Epstein
Elliott Abrams
Frank Gaffney
John Ellis ("Jeb") Bush
James Lasswell
Lewis ("Scooter") Libby
Mark P. Lagon
Mackubin Owens
Francis Fukuyama
Henry S. Rowen
Gary Schmitt
Fred C. Ikle
Frederick Kagan
David Fautua
Hasam Amin
George Weigel
newamericancentury.org
Leo Strauss
Morton I. Abramowitz
Elliott Abrams
Gordon Adams
Ken Adelman
Urban Ahlin
Madeleine K. Albright
Richard V. Allen
Giuliano Amato
Mark A. Anderson
Uzi Arad
Richard Armitage
Anders Aslund
Ronald Asmus
Andrew Y. Au
Maureen Aung-Thwin
Nina Bang-Jensen
Gary Bauer
Rafael L. Bardaji
Roger Barnett
Carolyn Bartholomew
Wladyslaw Bartoszewski
Arnold Beichman
Peter Beinart
Jeffrey Bell
William J. Bennett
Jeffrey Bergner
Alvin Bernstein
Robert L. Bernstein
George Biddle
Joseph R. Biden
Carl Bildt
Daniel Blumenthal
John Bolton
Max Boot
Ellen Bork
Rudy Boshwitz
Pascal Bruckner
Mark Brzezinski
William F. Buckley
Jr.
Reinhard Buetikofer
Janusz Bugajski
Jeb Bush
Michael Butler
Martin Butora
Stephen Cambone
Daniele Capezzone
Per Carlsen
Gunilla Carlsson
Frank Carlucci
James W. Ceasar
Linda Chavez
Richard B. Cheney
Steven C. Clemons
Eliot A. Cohen
Seth Cropsey
Devon Gaffney Cross
Ivo H. Daalder
Massimo D'Alema
Helle Dale
Dennis DeConcini
Midge Decter
Pavol Demes
Larry Diamond
Peter Dimitrov
James Dobbins
Paula Dobriansky
Thomas Donnelly
Nicholas Eberstadt
Robert Edgar
Uffe Elleman-Jensen
David Epstein
Amitai Etzioni
David Fautua
Lee Feinstein
Edwin J. Feulner
Jr.
Jeffrey L. Fiedler
Michele Flournoy
Steve Forbes
Hillel Fradkin
Aaron Friedberg
Francis Fukuyama
Frank Gaffney
Peter Galbraith
Timothy Garton Ash
Jeffrey Gedmin
Sam Gejdenson
Robert S. Gelbard
Reuel Marc Gerecht
Bronislaw Geremek
Carl Gershmann
Marc Ginsberg
Andre Glucksmann
Lt.Gen. Buster Glosson (UASF
ret)
Merle Goldman
Phillip Gordon
Daniel Goure
Karl-Theodor von und zu Guttenberg
Istvan Gyarmati
Morton H. Halperin
Pierre Hassner
Vaclav Havel
John Hefferman
Richard C. Holbrooke
James R. Hooper
Charles Hill
Fred C. Ikle
Martin S. Indyk
Toomas Ilves
Bruce P. Jackson
Eli S. Jacobs
Michael Joyce
Donald Kagan
Donna Kagan
Frederick Kagan
Robert Kagan
Max M. Kampelman
Adrian Karatnycky
Penn Kemble
Craig Kennedy
Zalmay Khalilzad
Glenys Kinnock
Bernard Kouchner
Jerzy Kozminski
Ivan Krastev
Harold Hongju Koh
Col. Robert Killebrew (Army
ret)
Lane Kirkland
Jeane Kirkpatrick
Peter Kovler
Louis Kraar
Charles Krauthammer
William Kristol
Girts Valdis Kristovskis
Ludger Kuehnhardt
Mart Laar
Mark Lagon
Anthony Lake
Vytautas Landsbergis
Stephen Larrabee
James Lasswell
John Lehman
Lewis E. Lehrman
Mark Leonard
Sabine Leutheusser-Schnarrenberger
I. Lewis Libby
Todd Lindberg
James Lindsay
Perry Link
Bette Bao Lord
Rich Lowry
Connie Mack
Christopher Makins
Christopher Maletz
Tom Malinowski
James Mann
Yu Mao-chun
Mary Beth Markey
Will Marshall
Robert Martinage
Margarita Mathiopoulos
Clifford May
John McCain
Gen. Barry McCaffery (Army
ret)
Michael McFaul
Daniel McKivergan
Matteo Mecacci
Mark Medish
Edwin Meese III
Thomas O. Melia
Sarah E. Mendelson
Phil Meilinger
Michael Mertes
Ilir Meta
Adam Michnik
Derek Mitchell
Richard Morningstar
Ross H. Munro
Joshua Muravchik
Klaus Naumann
Wing C. Ng
Steven J. Nider
Dietmar Nietan
James C. O'Brien
Michael O'Hanlon
Janusz Onyszkiewicz
Mackubin Thomas Owens
Wayne Owens
Cem Ozdemir
Can Paker
Mark Palmer
Robert Pastor
Martin Peretz
Richard N. Perle
Ralph Peters
Friedbert Pflueger
Daniel Pipes
Danielle Pletka
Norman Podhoretz
John Edward Porter
Florentino Portero
Dan Quayle
Samantha F. Ravich
Janusz Reiter
Sophie Richardson
Peter W. Rodman
Alex Rondos
Jim Rosapepe
Stephen P. Rosen
Dennis Ross
Kenneth Roth
Henry S. Rowen
Donald Rumsfeld
Jacques Rupnik
Eberhard Sandschneider
Major Gen. Robert Scales (Army
ret)
Randy Scheunemann
Christian Schmidt
Gary Schmitt
William Schneider Jr.
Richard H. Schultz
Simon Serfaty
Stephen Sestanovich
John Shattuck
Sin-Ming Shaw
Abram Shulsky
Gary Smith
Martin Simecka
Radek Sikorski
Paul Simon
Stefano Silvestri
Abraham Sofaer
Henry Sokolski
Stephen Solarz
Helmut Sonnenfeldt
Walter Slocombe
James B. Steinberg
Leonard R. Sussman
John J. Sweeney
William Howard Taft IV
Dick Thornburgh
Gary Titley
John Tkacik
Helga Flores Trejo
Ed Turner
Ivan Vejvoda
Sasha Vondra
Michael Vickers
Arthur Waldron
Celeste Wallander
Malcolm Wallop
Barry Watts
James Webb
Vin Weber
Ruth Wedgwood
George Weigel
Caspar Weinberger
Kenneth Weinstein
Richard Weitz
Paul Weyrich
Leon Wieseltier
Chris Williams
Jennifer Windsor
Marshall Wittmann
Paul Wolfowitz
R. James Woolsey
Minky Worden
Larry Wortzel
Dov S. Zakheim
Robert Zoellick
cointelpro agent
cass sunstein
cognitive infiltration
gregg roberts
rick shaddock
david slesinger
justin keogh
frank legge
david chandler
jonathon cole
jon gold
arabesque
jim hoffman
victoria ashley
victronix
col jenny sparks
kevin ryan
jeff hill
craig mckee
Cheryl Curtiss
frank tolopko
dr. gregory s. jenkins
michael ruppert
john judge
jim fetter
Laura Katleman
Oskar Mosquito
barbara honegger
Michael Wolsey
Allan Giles reprehensor
Steven T. Hatton
hetware
controlled opposition
george ripley
susan lindauer
judy wood
diana castillo
Scholars for 911 Truth&Justice
gatekeepers
noam chomsky
safe house
24600 Mountain Ave #3 Hemet CA 92544
change agent
harley guy
Nick Pugh
Mark Walsh
lax shooting
crisis actor
Richard ("Dick") Cheney
Robert B. Zoellick
Paul Wolfowitz
Richard Armitage
Robert Blackwill
John McCain
Scott McClellan
Richard Perle
John Dean
James Lindsay
James Woolsey
Donald Rumsfeld
Condoleezza Rice
Brent Scowcroft
Jeane Kirkpatrick
Dov S. Zakheim
George W. Bush
George Schulz
Stephen J. Hadley
Ivo Daalder
William Kristol
Zbigniew Brzezinski
Henry Kissinger
operation mockingbird
aig
krull
twa 800
carl cameron
60 Israelis detained
amdocs
comverse infosys
calea
TS/SCI
dancing israelis
Yaron Shmuel
Oded Ellner
Omer Marmari
Sivan Kurzberg
Paul Kurzberg
abcnews
norad
neads
faa
ntsb
sec
nspd-9
fema
Baosteel of China
rudy giullani
Office of Emergency Management
7 World Trade Center building
Thomas Kean
Lee H. Hamilton
Without Precedent: The Inside Story of the 9/11 Commission
Christie Todd Whitman
epa
International Association of Fire Fighters
FDNY EMT Patricia Ondrovic
This is Not About 9/11
Sarah Van Auken
Jersey Girls
CBS digital billboard
random office fires
nist
h.r. 428
House Resolution 428
Walter Jones
(R-NC)
Joint Congressional Inquiry into Intelligence Community Activities Before and After the Terrorist Attacks of September 2001
Sen. Robert Graham (D-FL)
Ray McGovern
Ramsey Clark
9/11 family member Terry Strada
HR428.org
Jeffrey Steinberg
Executive Intelligence Review (EIR)
Schiller Institute
dan barnum
high-rise architect
faia
AECOM Technology Corp
URS Corp
Jacobs
Fluor Corp
AMEC
Tetra Tech Inc
Bechtel
CB&I
KBR
HDR
Parsons Brinckerhoff
Parsons
WorleyParsons Group Inc
Arcadis U.S./RTKL
Black&Veatch
Wood Group Mustang Inc
Burns&McDonnell
MWH Global
Gensler
HNTB Cos
Stantec Inc
CDM Smith
Louis Berger
CDI Corp
Michael Baker International
Cardno
Sargent&Lundy LLC
Fugro
TRC Cos
Hatch Mott MacDonald
S&B Engineers and Constructors Ltd.&Affiliates
Kimley-Horn and Associates Inc.
Bureau Veritas
Terracon Consultants Inc
HOK
Atkins North America
Perkins+Will
Kleinfelder
Leidos
Skidmore Owings&Merrill LLP
STV Group Inc
POWER Engineers Inc
T.Y. Lin International
Dewberry
Brown and Caldwell
Aegion Corp
ENVIRON Holdings Inc
Gannett Fleming
Zachry Holdings Inc
Professional Service Industries (PSI)
Arup
Willbros Group Inc
HKS Inc
Golder Associates Inc
Gulf Interstate Engineering Co
CHA Consulting Inc
Kiewit Corp
Enercon Services Inc
Geosyntec Consultants
UniversalPegasus International Inc
Cannon Design
TranSystems Corp
WSP USA
NBBJ
Greenman-Pedersen Inc
Kohn Pedersen Fox Associates PC
Weston Solutions Inc
RS&H Inc
Langan Eng'g and Environmental Services Inc
SmithGroupJJR
Hazen and Sawyer PC
Callison
KCI Technologies Inc
Stanley Consultants Inc
Vanasse Hangen Brustlin Inc. (VHB)
Perkins Eastman
M+W U.S. Inc
Carollo Engineers Inc
The Babcock&Wilcox Co
Leo A Daly
Woods Bagot
ENGlobal U.S. Inc
Woodard&Curran
Thornton Tomasetti Inc
SCS Engineers
Rummel Klepper&Kahl LLP
Morrison Hershfield
TransCore
O'Brien&Gere
Ecology&Environment Inc
Moffatt&Nichol
SSOE Group
Johnson
Mirmiran&Thompson Inc
ZGF Architects LLP
Pennoni Associates Inc
Surveying And Mapping Inc. (SAM Inc.)
Foth Cos
Ghafari Associates LLC
Burns and Roe Group Inc
Dr. Niels Harrit
university of copenhagen
Madness in the Royal Library
Weekendavisen
writer Søren K. Villemoes
Bentham Open Chemical and Physics Journal
Dubai Torch Tower high-rise fire
george orwell
net neutrality
fcc
operation mockingbird
internet kill switch
andy steele
9/11 free fall
faa
norad standdown
pentagon
shanksville
American Airlines Flight 11
United Airlines Flight 175
American Airlines Flight 77
United Airlines Flight 93
board of directors chief operating officer kelly david
director of strategic initiatives ted walter
AIA
American Institute of Architects: AIA Resolution
AIA Convention 2015 Atlanta
President Bill Clinton
Sandong Plant
Smithsonian Channel
aluminum water explosion
steam explosion
metal water explosion
2015 EUROPEAN TOUR
reykjavic
iceland
copenhagen
denmark
berlin
germany
deutchland
delft
amsterdam
netherlands
london
totnes
bloomsbury
newbury
frome
brussels
belgium
canterbury
paris
grenoble
lausanne
rome
italy
vienna
austria
budapest
hungary
brody studios
University of Iceland
Radisson Blu Royal Hotel
Urania Berlin e.V.
Aula Auditorium
Delft University of Technology
Háskólatorg
Rm 103Totnes Town Hall
Market Square
Bloomsbury Baptist Church
Newbury Town Hall
Frome Westway Cinema
Brussels WSP Cultural Centrum
Elmwood Tennis Club
Old Sessions House
Canterbury Christ Church Univ
Auberege de jeunesse d'Artagnan
Maison du Tourisme
reopen911.info
Associazione Amici della Puglia
JUFA Vienna City
ReInvestigate911.org
keeptalking.info
vigli.org
Free21.org
11Septembre.ch
9/11 Free Fall Radio
ted walter
director of strategic initiatives
jes stafford
aia
President of the Asheville
North Carolina AIA
Senator Bob Graham
FBI
28 pages
saudi
senator frank church
church committee hearings
united states house select committee on assassinations
dci
Director of Central Intelligence
cia director william colby
cia director george poppy bush
opium poppy drug running bush
james angleton
James Jesus Angleton
chief of the Central Intelligence Agency's Counterintelligence Staff from 1954 to 1975
Associate Deputy Director of Operations for Counterintelligence
9/11 Free Fall Radio
Chris Sarns
NIST'S WTC 7 REPORTS: FILLED WITH FANTASY
FICTION
AND FRAUD
debunks NIST's thermal expansion theory
aia resolution 15-6
University of Virginia professor Philip Zelikow
executive director of the 9/11 Commission
Foreign Affairs
 November/December 1998
Volume 77
Number 6
 CATASTROPHIC TERRORISM: Tackling the New Danger
 By Ashton Carter
John Deutch
and Philip Zelikow
 IMAGINING THE TRANSFORMING EVENT
25 new structural engineers
NCSEA Structural Engineering Summit in Las Vegas
social media activism
popular mechanic's myth
WTC 7's phantom gouge
Dr J Leroy Hulsey
Chair Civil and Environmental Engineering Department
University of Alaska Fairbanks
wtc 7 evaluation
finite element analysis modeling
wtc7evaluation.org
Dana Carson
Northern California 9/11 Truth Alliance"skeptic" Michael Shermer
Anthony J. Hall
Joshua Blakeney
University of Lethbridge
Alberta
Canada
Michael Shermer exposed mischaracterizing his Academic Credentials
adjunct professor of economics
Claremont Graduate University
Jean Schroedel
Dr Joseph C Hough Jr Interim President CGU
Owen G Holmes Lectures
Paul Sparrow-Clarke
Media Coordinator of Globalization Studies
Shermer quote - If I am as some have suspected an agent of disinformation for the u.s. government to divert attention away from the real 9/11 conspiracy then you would think that they would have provided me wtih paperwork documenting my adjunct professorship not to mention my doctorate I have nothing to send you in that regard I trust you'll take my word for it
KPFA 94.1
Skeptic: Viewing the World with a Rational Eye
Hosted by Philip Maldari
Dale Pierce
Incontrovertible
Tony Rooke
aia atlanta
ethical obligations of architects
AIA 2016 PHILADELPHIA
new wtc 7 resolution
2500 architects and engineers