File:Logo-BDSM.svg
From WikiMANNia Commons
Original file
‎
(SVG file, nominally 1,000 × 1,000 pixels, file size: 2 KB)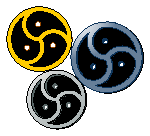 English:
Symbol BDSM – The BDSMblem is a design based on a
triskelion
[wp]
. The Triskele is the basic shape of the Emblem, with three "arms" curving out from the center and merging with an encompassing circle. The Triskele is an ancient shape that has had many uses and many meanings in many cultures. Not all Triskeles are BDSMblems! It is the details of the design that make it the BDSMblem. Not the basic shape. Look at the examples on the right. Their details meet all the critical criteria of the BDSM Emblem design:
The rims and spokes are of a

color

[wp] indicating metal, in this case gold, iron and silver.
The rims and spokes are of uniform width with the arms rotating clockwise.
The inner fields are black.
The holes in the fields are truly holes and not dots.[1]
Deutsch:
Symbol BDSM – Das Design eines BDSMblems basiert auf einer
Triskele
[wp]
. Die Triskele bildet die Grundform des Emblems, mit drei "Armen", die sich von der Mitte heraus drehen und mit einem umgreifenden Kreis verschmelzen. Die Triskele ist eine alte Form, die viele Verwendungen und Bedeutungen in vielen Kulturen hatte. Nicht alle Triskele sind BDSMbleme! Es sind die Einzelheiten des Entwurfs, die es zu einem BDSMblem machen, nicht allein die Grundform. Schauen Sie sich die Beispiele auf der rechten Seite an. Ihre Einzelheiten erfüllen alle entscheidenden Kriterien des BDSM-Emblem Designs:
Die Felgen und Speichen sind von einer

Farbe

[wp], die Metall darstellt, in diesem Fall Gold, Eisen und Silber.
Die Felgen und Speichen sind von gleichmäßiger Breite, wobei sich die Arme im Uhrzeigersinn drehen.
Die inneren Felder sind schwarz.
Die Löcher in den Feldern sind wirklich Löcher und keine Punkte.[2]
Español:
Símbolo BDSM – El BDSMblem es un diseño basado en un
trisquel
[wp]
. El Triskele es la forma básica del emblema, con tres "brazos" que se curvan hacia fuera del centro y que se combinan con un círculo que abarca. El Triskele es una forma antigua que ha tenido muchos usos y muchos significados en muchas culturas. ¡No todos los Triskeles son BDSMblems! Es los detalles del diseño que lo convierten en el BDSMblem. No es la forma básica. Mira los ejemplos de la derecha. Sus detalles cumplen con todos los criterios críticos del diseño del Emblema BDSM:
Las llantas y los radios son de un

color

[wp] que indica metal, en este caso oro, hierro y plata.
Las llantas y los radios son de anchura uniforme con los brazos girando en el sentido de las agujas del reloj.
Los campos interiores son negros.
Los agujeros en los campos son realmente agujeros y no puntos.[2]
URL

Remarks

SVG-Format from "BDSM logo.svg"
Colour and smaller outer black circle from "Triskelion points black outer-square.png"
References
↑ 1.0 1.1 Taken from The BDSM-Emblem Project: What Is and Is Not the BDSMblem?
File history
Click on a date/time to view the file as it appeared at that time.
You cannot overwrite this file.
File usage
The following page links to this file:
Metadata