File:SystemLanguage.svg
From WikiMANNia Commons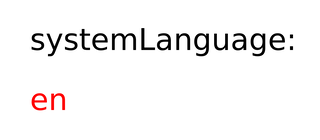 Deutsch: Diese Testdatei zeigt die Verwendung des SVG <switch> Elements um SVGs an Hand des systemLanguage Attributs zu übersetzen.
English: This is a test file illustrating the usage of the SVG <switch> element to translate SVGs based on systemLanguage attribute.
Español: Este es un archivo de prueba que ilustra el uso del elemento SVG <switch> para traducir SVGs basado en el atributo systemLanguage.
Usage

To embed a file in a specific language use the lang=xy parameter (where xy is a valid

IETF language tag

[wp]):

[[File:systemLanguage.svg|lang=xy]]
SVG 1.1 Specification
Date

2013-12-07
Author

Patrick87

[wp]
Other versions
This file rendered in different languages
This file is translated using SVG

<switch>

elements. All translations are stored in the same file!

Learn more

.

To embed this file in your language (if available) use the lang parameter with the appropriate language code, e.g. [[File:SystemLanguage.svg|lang=en]] for the English version.

To translate this file into your language, download the file to your computer, add your translation and re-upload it with the

same

name. You will find help in

Graphics Lab

if you're not sure how to do this.
File history
Click on a date/time to view the file as it appeared at that time.
You cannot overwrite this file.
File usage
The following 3 pages link to this file:
Metadata