File:Esther Vilar - L'uomo ammaestrato.pdf
From WikiMANNia Commons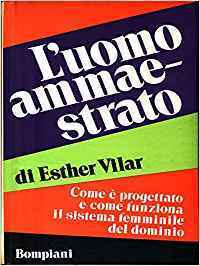 Autore

Titolo

L'uomo ammaestrato

Editoriale

Bompiani

Data

1971

URL
Vergriffenes Werk
Die Digitalisierung und Bereitstellung von Werken im Internet stellt eine größte Heraus­forderungen dar. Denn dabei kann es zum Konflikt zwischen dem Urheberrecht und dem Bestreben, das kulturelle Erbe für alle zugänglich zu machen, kommen. Von diesem Problem sind besonders vergriffene Werke (Englisch: "out-of-print works") betroffen.
Als vergriffene Werke werden insbesondere Bücher und Zeitschriften bezeichnet, welche noch als urheber­rechtlich geschützt gelten, allerdings nicht mehr über die herkömmlichen Vertriebswege erhältlich sind. Vergriffene Werke sind insbesondere beim Thema "Digitalisierung" von Bedeutung.
----
Das Werk Der dressierte Mann von Esther Vilar erschien im Verlag Bompiani in italienischer Übersetzung. Inzwischen ist diese Übersetzung seit vielen Jahren vergriffen, eine erneute Auflage oder anderweitige wirtschaftliche Verwertung des Urheber­rechts ist nicht mehr zu erwarten. Da die in diesem Werk dargelegten politischen Hintergründe von größter Wichtigkeit für die Feminismuskritik in Deutschland, ein Schwer­punkt­thema WikiMANNias, sind, gibt es ein erhöhtes Interesse daran, dieses Werk als kulturelles Erbe für alle zugänglich zu machen.
Downloads
[edit]

Der dressierte Mann - PDF-Dokument
File history
Click on a date/time to view the file as it appeared at that time.
| | Date/Time | Dimensions | User | Comment |
| --- | --- | --- | --- | --- |
| current | 08:54, 20 August 2019 | (39.72 MB) | Autor (talk | contribs) | http://ia800702.us.archive.org/20/items/LUOMOAMMAESTRATODiEstherVilarScaricaPDFLIMPEROSEGRETOSANGUINARIOFEMMINILEELEMENZ/L_UOMO_AMMAESTRATO_di_Esther_Vilar_scarica_PDF_L%27_IMPERO_SEGRETO_SANGUINARIO_FEMMINILE_E_LE_MENZOGNE_NARCISISTICHE_PER_SCHIAVIZZA... |
You cannot overwrite this file.
File usage