File:Warren Farrell - Mythos Maennermacht.pdf
From WikiMANNia
Jump to navigation
Jump to search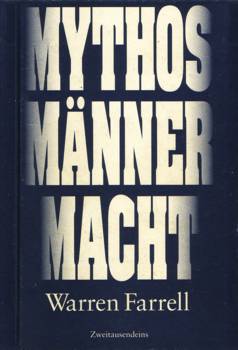 Title

Author

Translator

Elisabeth Brock

Edition

Zweitausendeins, 1995
ISBN 3-86150-108-2

Original

The Myth of Male Power. Why Men Are The Disposable Sex., Berkley Books, 1993
ISBN 0-425-18144-8
Vergriffenes Werk
Die Digitalisierung und Bereitstellung von Werken im Internet stellt eine größte Heraus­forderungen dar. Denn dabei kann es zum Konflikt zwischen dem Urheberrecht und dem Bestreben, das kulturelle Erbe für alle zugänglich zu machen, kommen. Von diesem Problem sind besonders vergriffene Werke (Englisch: "out-of-print works") betroffen.
Als vergriffene Werke werden insbesondere Bücher und Zeitschriften bezeichnet, welche noch als urheber­rechtlich geschützt gelten, allerdings nicht mehr über die herkömmlichen Vertriebswege erhältlich sind. Vergriffene Werke sind insbesondere beim Thema "Digitalisierung" von Bedeutung.
----
Das Werk The Myth of Male Power. Why Men are The Disposable Sex. von Warren Farrell erschien 1993. Unter dem Titel Mythos Männermacht brachte Zweitausendeins die deutsche Übersetzung 1995 in zwei Auflagen heraus. Inzwischen ist die deutsche Übersetzung seit vielen Jahren vergriffen, eine erneute Auflage oder anderweitige wirtschaftliche Verwertung des Urheber­rechts ist nach mehr zwanzig Jahren nicht mehr zu erwarten. Da die in diesem Werk dargelegten politischen Hintergründe von größter Wichtigkeit für die Feminismuskritik in Deutschland, ein Schwer­punkt­thema WikiMANNias, sind, gibt es ein erhöhtes Interesse daran, dieses Werk als kulturelles Erbe für alle zugänglich zu machen.
Download
| | | |
| --- | --- | --- |
| For downloading we provide the following e-book formats. |   | Zum Herunterladen stellen wir folgende E-Book-Formate zur Verfügung. |
| Please select   →   →   → | - epub - mobi - azw3 - | ←   ←   ←   Bitte wählen Sie! |
File history
Click on a date/time to view the file as it appeared at that time.
You cannot overwrite this file.
File usage
There are no pages that use this file.